General Notices for Visitors
The rubrics of the Extraordinary Form of Mass require that Holy Communion be given on the tongue and kneeling. Those who cannot kneel because of illness, frailty or old-age are not obliged to kneel and are welcome to stand when receiving Holy Communion (though still on the tongue).
Parking – Do not park in the under-cover parking bay on the immediate left of Charles O'Neill Way. Parking is available further down, or on West St.
Please do not park in yellow-striped bay which is reserved for the St Vincent de Paul Night Patrol vans.
Please leave closer parking bays available for elderly and less mobile Mass-goers.
Bush Dance and Spit Roast Dinner August 3rd 2019
You are invited to a Maternal Heart of Mary Parish Bush Dance and spit-roast dinner on Saturday 3rd August 2019 at 6.30pm. St.Michael the Archangel Parish Hall, 26 Margaret St. Belfield. (Non alcoholic beverages provided. BYO Alcohol)
ADULTS: $30 pre-purchase/$35 at door
STUDENTS: $20 pre-purchase/$25 at door
CHILDREN under 12 Free
Booking is essential for catering purposes
RSVP to mhmevents@fssp.net by 20th July
Tickets can be pre-purchased by direct deposit to the Parish Account
BSB 062784
A/c No: 10175002
Reference: Dance-surname
Tickets also being sold after each Mass on Sundays.
For enquiries please contact
Kate: 0413 667 781
Lia: 0415 054 106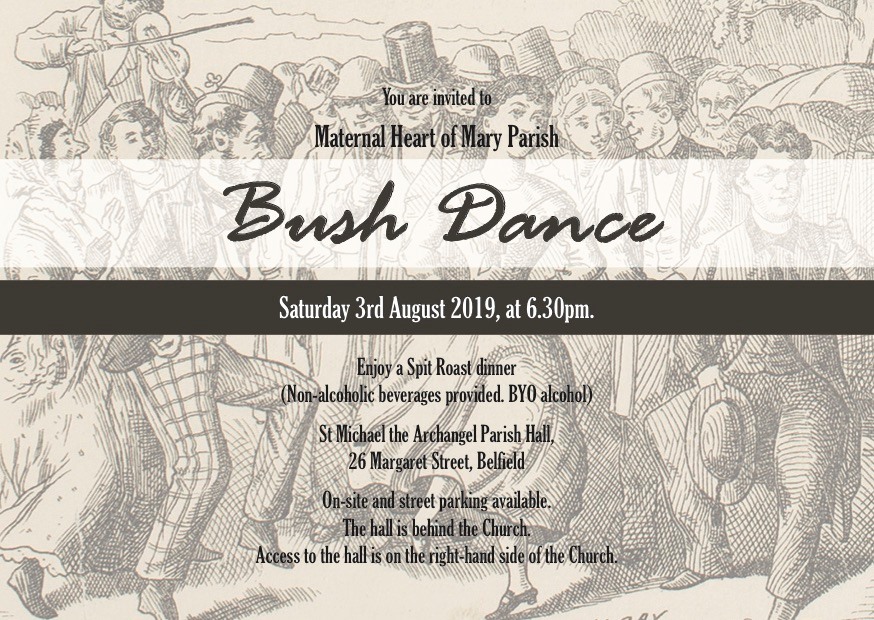 ---