General Notices for Visitors
The rubrics of the Extraordinary Form of Mass require that Holy Communion be given on the tongue and kneeling. Those who cannot kneel because of illness, frailty or old-age are not obliged to kneel and are welcome to stand when receiving Holy Communion (though still on the tongue).
Parking – Do not park in the under-cover parking bay on the immediate left of Charles O'Neill Way. Parking is available further down, or on West St.
Please do not park in yellow-striped bay which is reserved for the St Vincent de Paul Night Patrol vans.
Please leave closer parking bays available for elderly and less mobile Mass-goers.
FSSP 30th Anniversary Dinner Celebration
Celebration and Patronal Feast day of the Maternal Heart of Mary Church on Saturday, 13th October 2018 at 6.30pm, St. Michael the Archangel Parish Hall, 26 Margaret Street, Belfield. Fully catered buffet-dinner. (Non-alcoholic beverages provided. BYO alcohol.) Booking is essential for catering purposes. Please RSVP by 30th September 2018. Onsite and street parking is available. The hall is behind the church – access to the hall is on the right hand side of the church.
Please RSVP using this form:
or mail to mhmevents@fssp.net
Suggested donation for the evening:
Adults (over 12 years)   $15
Children (ages 5-12)   $8
Children under 5 yrs FREE
For those who are going through a difficult financial period, any small donation will suffice. The parish will subsidise the dinner.
For enquiries please contact:
Teresa 0413 041 930
Lia 0415 054 106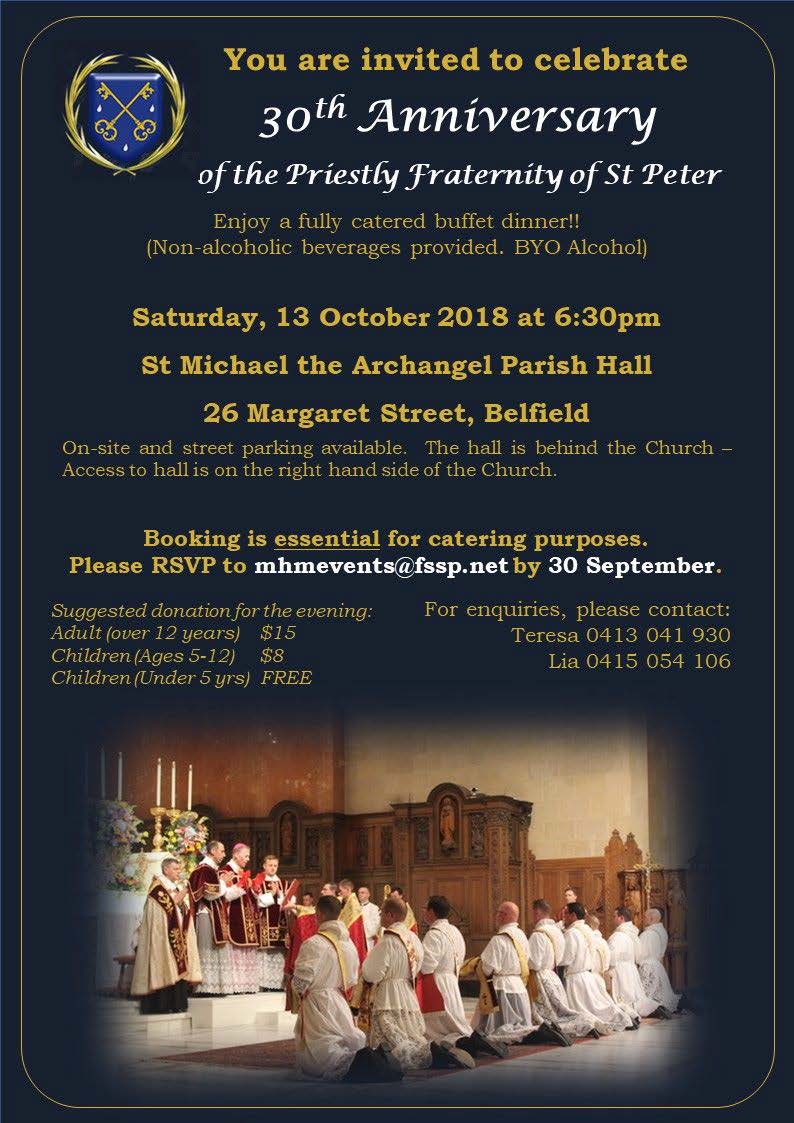 ---